Adra-e - An all-inclusive collaborative effort to drive EU competitiveness thanks to AI, Data and Robotics initiatives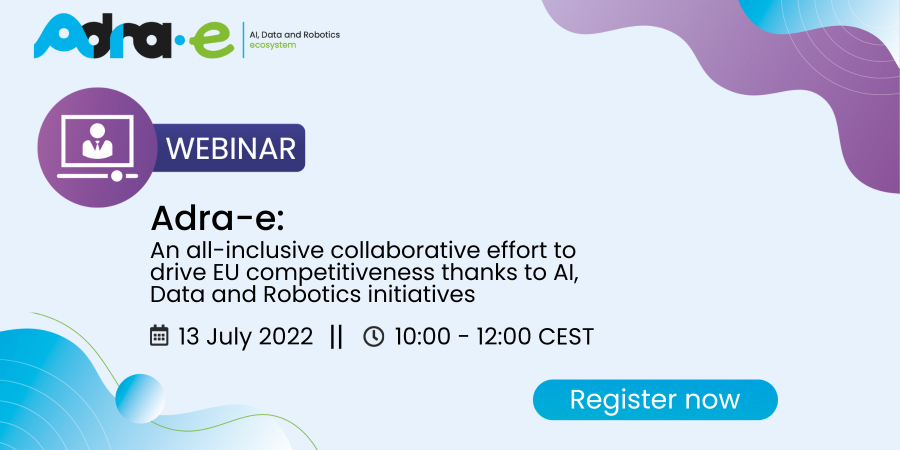 Overview
AI, Data and Robotics (ADR) are enabling technologies which will be key for Europe to respond to modern challenges including the digital transition, industrial competitiveness, and technological sovereignty. In order to exploit them in full potential, it is essential that the multiple stakeholders being part of these communities overcome their heterogeneity and start a process of collaboration in terms of technology education, technology matching needs, fair and feasible regulation, and international technology standardization.
Making sense of a complex ecosystem
In order to ensure a multi-stakeholder dialogue and create a unified community around ADR topics beyond each single domain, Europe has activated several initiatives which are acting together to work toward the objectives of contributing to the creation of trustworthy, safe and robust AI, Data and Robotics, compatible with EU values and regulations. 
These initiatives include the ADR Partnership, ADRA and its founding organisations BDVA, CLAIRE, ELLIS, EurAI and EuRobotics, and the recently funded CSA projects AI4Europe and Adra-e (AI, Data and Robotics ecosystem).
 
Objectives
The webinar will zoom in on the ADR ecosystem, clarifying the roles and objectives of the above-mentioned initiatives and explaining how they will dialogue, interact and engage with a wide range of stakeholders covering the entire value chain of AI, Data and Robotics to deliver concrete results for the future of Europe.
Who should attend and why?
The webinar is open to all actors involved in AI, Data and Robotics communities including research organisations, associations linked to ADR technologies, developers and domain experts, Governments & Policy Makers, citizens and civil society.
The webinar will allow participants to:
Have a clear understanding of the ADR ecosystem including EU ambitions and expectations
Discover the engagement opportunities to play an active role in shaping the future of European ADR ecosystem
Create bridges between research and industry across different disciplines
Learn insights from international domain experts 
 
Agenda
10:00 – 10:05: Welcome and introduction – Viviane Habert, Inria project manager and Adra-e project manager
10:05 – 10:20: Scope of Adra-e CSA – presentation and objectives - Marc Schoenauer, Research Director at Inria
10:20 – 10:30: Scope of AIforEurope CSA– Barry O'Sullivan or Gabriel Gonzales Castane, University College of Cork
10:30 – 10:40: Adra – Rich Walker, Chair of the Board of Directors
10:40  - 10:55: Links between the ADR Partnership, Adra-e and AIforEurope - Cem Gulec and David Zunel Ballester, Project Officers at European Commission 
10:55 – 11:40: Q&A Discussion with participants 
Moderator Clemens Wasner, CEO EnliteAI