One of the most important SWForum.eu services available to projects registered in our Project Hub is the opportunity to perform an MTRL Self-Assessment.
The Market & Technology Readiness Level ("MTRL") framework provides a means for project managers and decision-makers to analyse a software technology project's maturity in a holistic, straightforward fashion, providing management with a simple yet powerful decision-making tool. MTRL analysis and grading delivers a single-valued result, thereby offering decision-makers a faster way to assess, measure and support software technology projects, as well as guidance for software technology projects embarking on their MTRL self-assessment journey.
The MTRL methodology resembles the Capability Maturity Model (CMM) developed at SEI to assess and improve the maturity of software development teams, but is focused on enabling an improvement in innovation and competitiveness of EU-funded projects. It provides detailed guidance through the definition of a methodological approach to the improvement of a project's MTRL, Mentoring, Technology Transfer & Best Practices, with an eye also toward EU policy innovation. An assessment of your MTRL level and consequent improvement will help your software technology projects develop their business concept further into a market-ready product, service or process aligned with your company's growth strategy.
In addition, your MTRL registered in our Project Hub will automatically be taken up in our Project Radar, helping you, investors, and policy makers to track your progress to market readiness and to benchmark yourselves against other projects in the ecosystem who are also working their way toward the market.
Then send it to info(at)swforum.eu
Webinars on Demand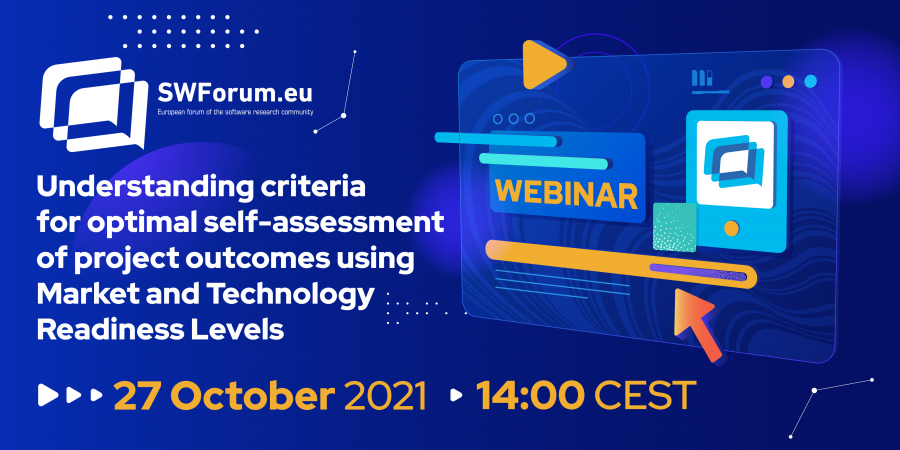 Understanding criteria for optimal self-assessment of project outcomes using MTRL
Discussion of the assessment process in detail.
WATCH ON DEMAND