AI-SPRINT: Personalised Healthcare Use Case Webinar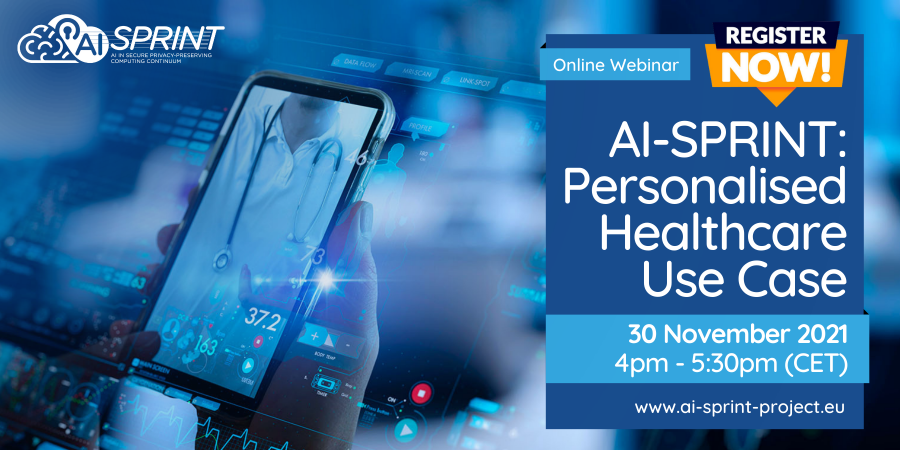 ABOUT THE WEBINAR
The AI-SPRINT team is organising its third webinar focused on presenting the main drivers, benefits and societal impacts for personalised healthcare. 
The webinar will open with statistics and information on the stroke incidence in Europe. It, then, will show the work conducted on the AI-SPRINT Personalised Healthcare Use Case, which exploits the potential offered by the edge-cloud environment to develop innovative and impactful clinical applications for stroke prevention. The use case benefits from incorporating wearable technology into healthcare, such as continuous data acquisition and low patient burden. This novel approach will be tested over the next few years, collecting different kinds of information and  combining quantitative and qualitative data per patient while preserving both privacy and security of the people concerned.
Participants will get the chance to hear in a dedicated panel discussion real world experience and insights about how Artificial Intelligence models can be applied to patient stratification,  how AI can contribute to progress on innovative technologies designed for stroke patients as well as improving the patient monitoring, and enhancing the detection and management of risk factors.
MAIN AUDIENCE AND KEY TAKEAWAYS
The webinar targets: 
SMEs and AI application developers interested in solutions that balance accuracy with privacy constraints, including compliance with national and European regulatory requirements, while guaranteeing performance all the way from IoT up to the cloud.
EU Digital Innovation Hubs interested in adopting new trustworthy technologies in the healthcare sector.
Healthcare organisations and associations, with a mission to improve patient care for stroke incidence.
READ MORE ON THE OFFICIAL WEBSITE!