Edge computing Market outlook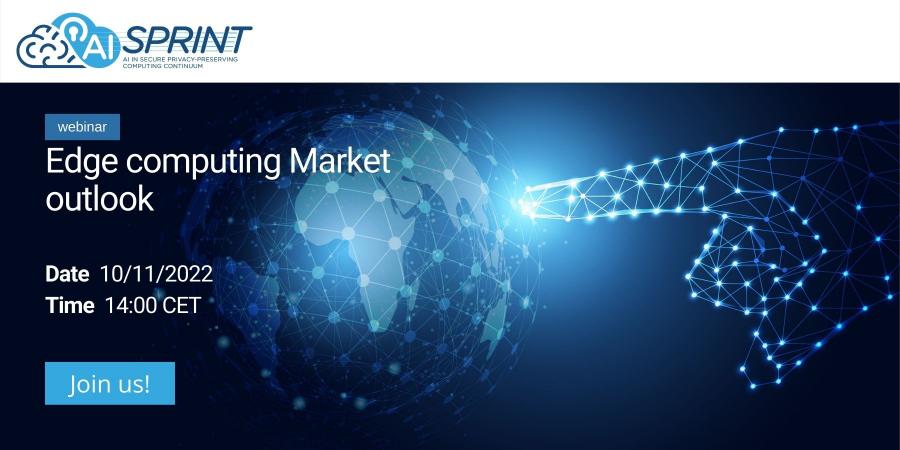 The European enterprise edge market has grown significantly in the last couple of years, with new solutions developed to address specific industries and use cases as more organisations have started to understand the benefits and opportunities behind edge and other emerging technologies. The COVID-19 pandemic has reshuffled the investment plans of many organisations in the world, in some cases stimulating the need for edge to ensure business continuity, to improve the decision-making process and to support remote operations.
AI-SPRINT project has organized this webinar to provide an overview of the market status-quo and market forecast for edge computing with a specific focus on AI and other enabling technologies. It also gives insights on the market forecast of the three main use-cases of the AI-SPRINT project in the three sectors of healthcare, energy and agriculture.
Who should attend and why?
The webinar is open to all actors involved in Edge, AI and Data communities including research organisations, associations linked to computing continuum technologies, developers and domain experts, Governments & Policy Makers, citizens and civil society. During the webinar, attendees from research and developers communities can achieve a better understanding of the demand market of edge and get insights to better align their products with the market requirements. At the same time, business organizations can get insights about the market trends which could impact their investment plan for the adoption of edge and AI.
AGENDA
14:00 - 14:05 - Welcome and Introduction - Danilo Ardagna, Politecnico di Milano
14:05 - 14:35 - Market analysis: Key trends on the European Edge Market - Alexandra Rotaru, IDC
14:35 - 14:45 - European Data market: An overview of the status-quo, trends and forecast - Nevena Raczko, IDC
14:45 - 14:55 - Q&A
14:55 - 15:00 - Wrap-up and conclusion