Shaping the uptake of cloud-to-edge based services to support industrial use cases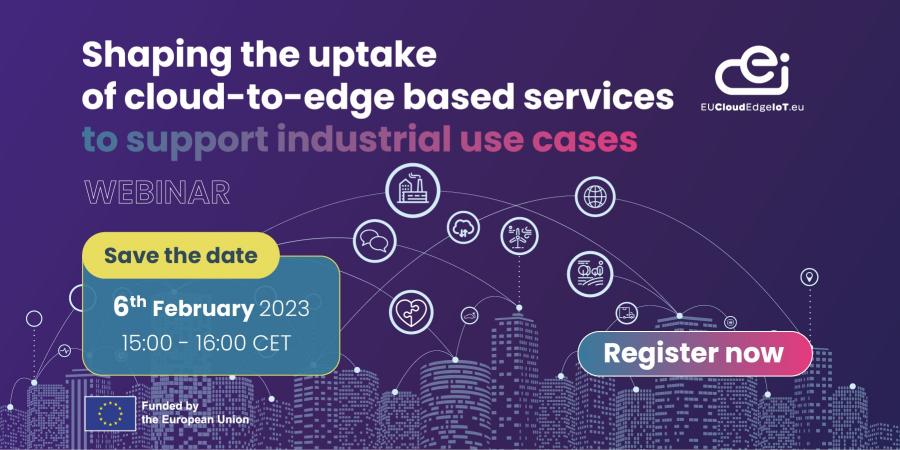 Cloud computing, Edge computing and IoT can transform businesses across Europe.
On 6 February 2023 (15:00 – 16:00 CET), the UNLOCK CEI project, part of the European Cloud, Edge & IoT Continuum EC-funded initiative is organising its second webinar to present the activities towards the creation of an engaged community of Cloud-Edge-IoT adopters to help understand the requirements for the future uptake of such technologies and provide insights to guide future research and innovation in this field. The event opens the first wave of sector-specific Value Chain Adopter workshops scheduled between February and March 2023.
The European Cloud, Edge & IoT Continuum is engaging with industry and business representatives from across Europe to understand the current status of technology uptake and demand-supply dynamics and define future market scenarios, pathways and demand-pull business opportunities brought by the convergence of cloud, edge and IoT.
If you:
Are interested in joining our workshops on Cloud-Edge-IoT demand-pull drivers in manufacturing, agriculture, healthcare, energy, and transportation and discovering the most promising use cases in this field
Enter a group of experts and players in this field, get visibility and interact with our network of users, developers, providers, and applied researchers of Cloud-Edge-IoT to understand how to assess the readiness of your use cases
Get prepared to embrace the Cloud-Edge-IoT continuum market opportunities, discovering main trends and competitiveness levers
Then this webinar is right for you. 
The event will be a lean 1-hour session to describe the structure and approach of the upcoming hands-on vertical-specific workshops, the inputs requested and the outputs you will receive. It will also include discussions with experts in Cloud-Edge-IoT and an interactive Q&A session to address any doubts or curiosity from the audience:
The event is free and open to anyone interested in the cloud, edge, and IoT domains as well as related topics including but not limited to Artificial Intelligence, Interoperability, ICT security and connectivity. 
Register now: https://us02web.zoom.us/webinar/register/2416708376106/WN_mCiekLj1ThqE4b_59tae-w
Learn more about the whole workshop wave here: https://eucloudedgeiot.eu/join-our-value-chain-adopter-groups/