Innovating the Path Ahead: SWForum.eu's Way Forward Workshop Empowers Software Engineering Professionals to Excel in Future Challenges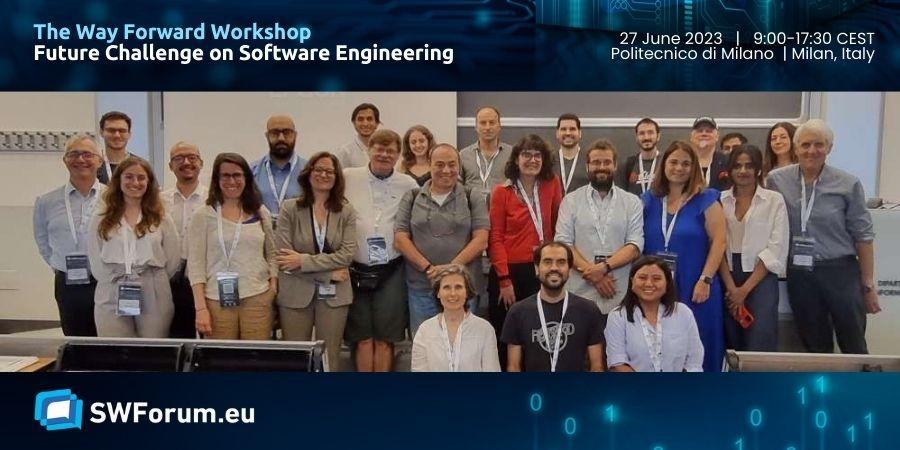 30 June 2023. Pisa, Italy
The SWForum.eu Way Forward Workshop: Future Challenges in Software Engineering left attendees energised and equipped with innovative strategies to navigate the rapidly evolving software engineering landscape. Hosted by SWForum.eu, an H2020 project that operates as a Coordination and Support Action (CSA) under the ICT-50-2020 initiative, the workshop brought together prominent experts, researchers, and professionals from various sectors of the software industry. The primary objective was to collectively explore and chart the path forward to effectively address future challenges in software engineering.
The workshop, held on 27 June 2023 at the Politecnico di Milano (POLIMI), in the Dipartamento di Elettronica, Informazione e Bioingegneria (DEIB), featured a dynamic agenda that encompassed a comprehensive range of topics and discussions. With a focus on emerging trends, technological advancements, and industry insights, the event provided a platform for attendees to gain a deeper understanding of the challenges and opportunities awaiting the software engineering community.
The day kicked off with a keynote address delivered by Juncal Alonso, R&D project manager and senior researcher at Tecnalia and SWForum.eu project coordinator. The keynote highlighted the transformative impact of emerging technologies such as artificial intelligence, quantum computing, cybersecurity, and the cloud computing continuum on the field of software engineering. Participants were captivated by the thought-provoking insights, which set the tone for the engaging discussions that followed.
The workshop sessions' discussions brought together a diverse array of professionals who shared their expertise on specific challenges faced by software engineers. Topics included:
Security in the Computing Continuum. The session was chaired by Mark Miller, CEO of CONCEPTIVITY and one of the board members of the European Cybersecurity Organisation (ECSO), and featured talks and discussions from three cybersecurity experts, namely Martin Higgins (a researcher at the University of Oxford and one of the SWForum.eu fellows), Valentina Casola (associate professor at the University of Napoli Federico II), and Francesco Morano (a Cyber Security Team Researcher at CEFRIEL) on cyber-physical systems, security-by-design methodologies and security metrics and usage of artificial intelligence (AI) to automate human-related cyberattacks.
Software Engineering in AI. John Favaro, a Senior Research Analyst at Trust-IT Services, chaired a captivating session featuring six talks which combined best practices in software engineering with the unique challenges and considerations of developing AI systems. Experts such as Nuria Quintano Fernandez, Luciano Baresi, Michele Ciavotta, Luigi Lavazza, Marina Giordanino, and Francesco Lattari shared insights on topics like ethics, software engineering for ML, MLOps, binary classifiers, IoT2cloud operating systems, and accelerating AI application development. Attendees gained a comprehensive understanding of these cutting-edge topics.
The Software Engineering for Quantum Computing session, chaired by Elisabetta Di Nitto, a professor at Politecnico di Milano, featured four talks on various aspects of quantum computing. Dario di Nucci discussed its adoption, Vlado Stankovski highlighted the role of formal probabilistic models, Eneko Osaba focused on quantum optimisation, and Paolo Cremonesi explored quantum annealing. These talks provided valuable insights into the quantum frontier in software engineering and its potential applications.
The Sustainable Software Engineering session, chaired by David Wallom, a professor at the University of Oxford, highlighted the importance of maintaining and adapting software in dynamic environments. It showcased tools and methodologies to enhance software sustainability and emphasised the need for technical and policy innovations. This session featured Radu Prodan, a professor at the University of Klagenfurt, who provided insights into extreme and sustainable graph processing, addressing urgent societal challenges in Europe. The session aimed to inspire innovative approaches and promote policies supporting software sustainability.
The workshop further encouraged collaboration through interactive question-and-answer times in every session. The lively exchanges of ideas and experiences fostered an environment of collaboration, enabling participants to gain valuable insights and fresh perspectives.
"The quantum computing research community holds the complementary interests needed to build a strong European Quantum research community, such as practitioners mostly concerned about quantum computing-based formulations, researchers coming from quantum physics, researchers with backgrounds in traditional artificial intelligence and Software Engineers trying to reshape the way Quantum systems are developed" - Eneko Osaba, Researcher from TECNALIA QTECH group.  

The workshop concluded with a comprehensive summary of the key takeaways and recommendations gleaned throughout the day.
The SWForumEU Way Forward Workshop provided an invaluable networking opportunity for attendees. Participants seized the chance to connect with fellow professionals, establish industry contacts, and explore potential research collaborations. The event fostered an environment conducive to building lasting relationships among like-minded individuals passionate about shaping the future of software engineering.
"Software is more pervasive than ever and therefore we need to push together the European research in software engineering. Current technology challenges such as generative AI, Quantum shift paradigm, constrained computing resources in the edge, and cybersecurity for complex software supply chains are highly impacting the way we develop and operate software." - Juncal Alonso, SWForum.eu Project Coordinator.
SWForum.eu and the workshop organisers expressed their heartfelt appreciation to all the participants, speakers, and supporters for their valuable contributions to the success of the event. The outcomes of the workshop, including the identification of key challenges and the sharing of best practices, will undoubtedly have a lasting impact on the field of software engineering.
To learn more about the SWForum.eu Way Forward Workshop, we invite you to visit the SWForum.eu website. 
Explore the highlights of the sessions and take advantage of the opportunity to download the complete presentations and gain valuable resources to navigate future challenges in software engineering with efficacy.
Excitingly, the post-workshop report is now ready for download, offering a comprehensive overview, key insights, and actionable recommendations derived from the workshop. Immerse yourself in this wealth of knowledge today!
DOWNLOAD THE POST-WORKSHOP REPORT NOW!
Thank you for your interest and participation. We look forward to your continued engagement as we advance in the field of software engineering.
SWForum.eu is a leading platform dedicated to software engineering research and collaboration. Our mission is to promote the exchange of knowledge, foster innovation, and shape the future of software engineering. By bringing together academia, industry, and research organisations, SWForum.eu serves as a catalyst for advancements in software engineering practices.
Unlock the power of knowledge sharing! Embrace the opportunity to showcase your expertise and connect with peers on Online SW-Forum, an accessible and free platform. With our thriving community of nearly 3,000 SWForum members, your contributions will have a far-reaching impact.
Let's amplify your voice by spreading this valuable information through your networks and channels. Together, we can create a ripple effect of knowledge and collaboration.