Joint Recommendation Report Released: DevOps Innovation in Practice for New Applications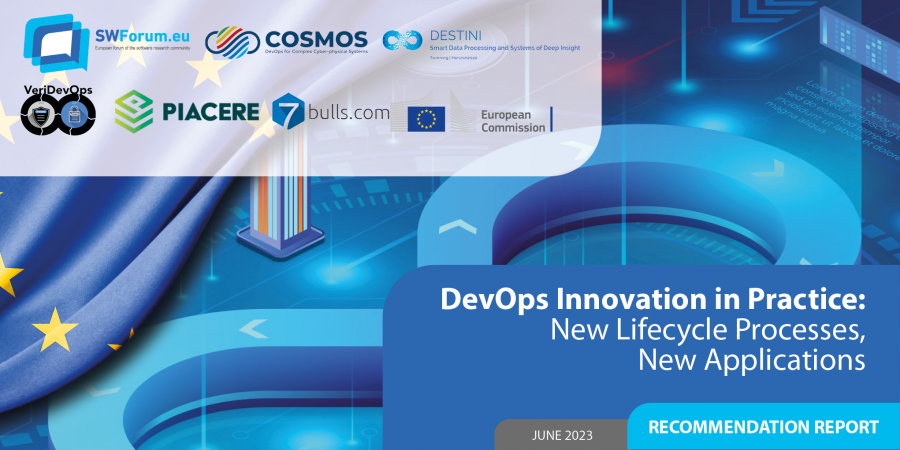 SWForum.eu has released the joint recommendation report from its third and final webinar series on "DevOps Innovation in Practice: New Lifecycle Processes, New Applications", which was held on 20 April 2023, in collaboration with COSMOS, DESTINI, VeriDevOps, PIACERE projects, and 7bulls.com.
The joint report showcases innovation in DevOps lifecycle processes, practices, and culture in response to the evolving demands of software development. This highlighted the latest advancements in DevOps for advanced software systems, with a focus on outcomes from EU-funded projects, providing an overview of innovative practices and outcomes in DevOps.
This webinar provides an opportunity for knowledge exchange and exploration of the latest developments in the field of DevOps and managed to gather 35 live participants from 12 countries across the globe: 9 EU Member States and 3 Non-EU/global The majority of them were from EC-funded H2020 and Horizon Europe projects with interest in standardisation (44%), followed by Software Engineering Experts (25%), SME and Large enterprises (16%), Software technology and digital infrastructure communities (13%), and Policy and decision makers (3%).
Participants gained a comprehensive understanding of the practical applications and benefits of DevOps in software development.
Read the report here, and access the complete speaker presentations and video recordings of the full session at the SWForum.eu page.
Join us at the SWForum.eu Workshop on Future Challenges in Software Engineering!
Come join us at the "SWForum.eu The Way Forward: Workshop on Future Challenges in Software Engineering" in Milan, Italy, on June 27, 2023, and be part of shaping the future of these exciting fields!
The SWForum project aims to create a self-sustainable online forum that fosters collaboration between researchers, practitioners, and projects in software, digital infrastructure, and cybersecurity. As we near the end of our funding period, we want to continue nurturing the discussion in our vibrant community.
At the workshop, we'll bring together experts and enthusiasts to explore four crucial areas in separate sessions: 
Software Engineering and AI
Software Engineering for Quantum Computing
Security in the Computing Continuum
Sustainable Software Engineering
This highly interactive, in-person event will feature inspiring talks and open discussions. We'll dive deep into these topics, exchanging ideas and sparking innovation. The outcomes of our discussions will be summarized in a joint paper, possibly submitted to an international magazine.
Don't miss out on this incredible opportunity to connect with like-minded professionals, share your expertise, and shape the future of these cutting-edge fields. Registration is free but mandatory until 22 June 2023. Join us at the SWForum.eu workshop, and let's make an impact together!