SWForum.eu Launches Open Consultation Survey to Shape the Future of European Software Community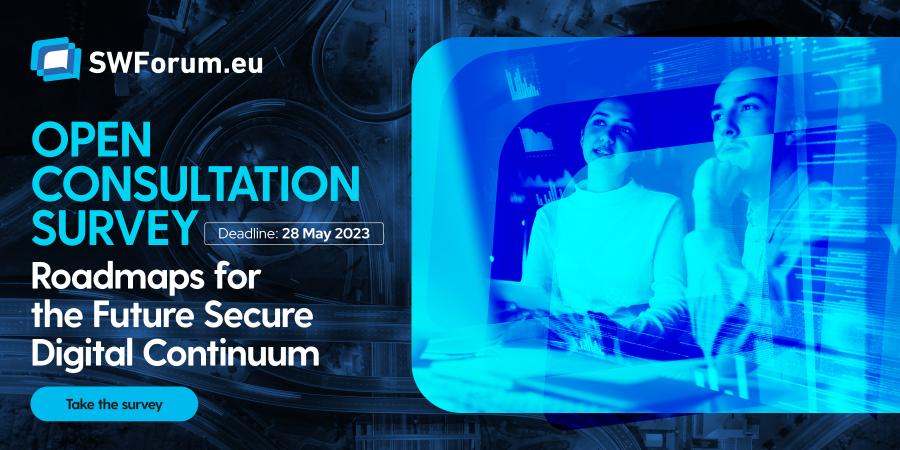 SWForum.eu are thrilled to announce the launch of the Open Consultation Survey on the roadmaps for our projects!
Attention all EU-funded research and innovation projects/teams in the realm of software technologies! Your valuable feedback is needed to shape the future of the European software community. Complete this survey by 28 May 2023 and make your voice heard!
In case your expertise is in more than one challenge, please complete one survey for each of the challenges you are proficient in it.
Don't miss out on this opportunity to have your say and make a difference. Take a few minutes to share your valuable insights and help us better understand your needs. Together, let's build a brighter tomorrow.
Learn more about SWForum Open Consultation Survey and complete the survey now!
Submit your Talk Proposal by 4 June 2023: SWForum Way Forward: Future Challenges in Software Engineering Workshop

Join us at the SWForum.eu Workshop on Future Challenges in Software Engineering!
Mark your calendars for the highly interactive workshop, "The Way Forward Workshop," taking place on 27 June 2023 at Politecnico di Milano. Registration is free of charge but mandatory, and the deadline is on 15 June 2023.
We're seeking contributions on the following topics:
Software Engineering and AI
Software Engineering for Quantum Computing
Security in the Computing Continuum
Sustainable Software Engineering
We welcome submissions from researchers, practitioners, and educators in the field of software engineering. This is an excellent opportunity to share your expertise, connect with peers, and shape the future of our community.
To submit your contribution, visit our website and fill out the submission form. The deadline for submissions has been extended until 4 June 2023.
Don't miss out on the chance to be a part of this dynamic workshop!